SHRM conferences get a bit hard to manage, and being in Vegas doesn't help with that. You will often feel like you've learned so much from so many different people, but when it comes to translating that to the workplace, it becomes overwhelming. KRESS is here to help with that. With these tips and tricks, you should feel more comfortable bringing what you learned at SHRM back to the office.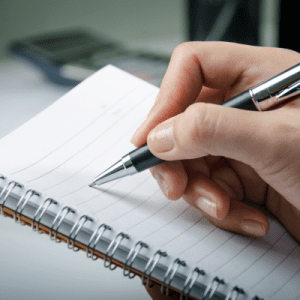 Take notes
Save yourself the time and trouble of trying to remember that one inspirational quote, tool or link a speaker mentioned. Bring a notebook and a couple of pens (they will magically disappear during the day) and take notes of the most important things you learned. Click here for more tips on taking effective notes.
List your current challenges in advance
In a full day conference, you'll hear a lot of fresh ideas. Some are more valuable now, some might be at a later stage. One way to prove that the money and time spent to attend a conference were well invested is to bring solutions for your current challenges.
Make a small list of the problems your company or clients are having at the moment. Create acronyms to quickly identify your clients or projects and save time when taking notes. If your client or boss can hear a few good highlights that will help them overcome challenges, this will make the investment worth it and allow you to make your case to get your trip or tickets paid.
Have those listed and checking in advance who the speakers are will make you concentrated even more when a relevant speaker is on stage. Actually, speakers are often very approachable people, and there's no harm to ask for some one-on-one advice later in the day.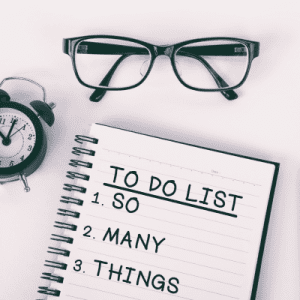 Create a to-do list as quickly as possible
The days after the conference are key to organize all you've learned. The ideas are fresh and at least in my case, I still feel an adrenaline boost pushing me to start implementing what I saw. It's the perfect moment to filter all notes taken and transform them into an action list.
I try to have a list with at least ten clear actions for clients. To make it quicker to use my notes later, I save the bottom part of each page of my notebook just for the to-dos, with client acronyms and ideas to make it even more straightforward.
Here's an example:
Block off 90 min on your calendar the week after the conference (the earlier, the better)

During that time, create an Excel sheet listing out the ideas, and add three additional columns: potential profitability, ease of implementation, timeframe to see results.

Give each idea a score from 1-5 for each of these. Best estimates will do here.

Next, total up the scores for each idea and sort by highest scores to lowest.
Take pictures of key slides
Notes can become long and tedious to read through. As the saying goes, "A picture is worth 1000 words." Take some pictures of key events or slides in a presentation to help you remember what was happening.
Give a presentation to your team
They say the best way to learn is to teach, for a reason. Sit your team down and explain the things that you thought were the most important. Give some context to what you've learned to your team in an easily digestible way. 
To learn more about the conference visit the SHRM website here!