Download "How Not to Hire" now  for a fun look at what not to do in the hiring process.
Frankly, there are enough articles on how to hire. We've all read them. They say lovely things like choose applicants based on their resumes and experience, run background checks, and look for the candidates on social media websites like facebook and Twitter. But really, do we need to be told that again? Don't we already know those things?
The frustrations of the hiring process have never been in what to do, but instead what not to do. We all remember the interview when we were asked questions like, would a 5 o'clock beer hour work for you, or do you know our culture demands 50 hours a week of all salary employees, or who's your favorite Disney character. On a recent episode of "Grey's Anatomy," one of the doctors even used the interview process as a dating screen, asking if the prospective candidate would like children. We know better than to do this in real life, and yet…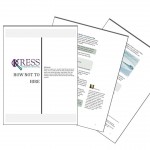 The white paper, How Not to Hire, presents what not to do in the hiring process and why these tempting decisions would be a mistake.
Take the time to hire right. You might still get the best candidate not matter how you hire, but it's best to leave the hiring process with both the best candidate and your brand intact.