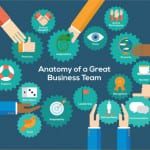 Employers are still grappling with the laws that will immediately impact their business, chief among them the Department of Labor employee classification interpretation and the same sex marriage act. We bring you the latest updates on both of those, with advice specifically for employers, as well as an infographic to help your team perform better.
Talent Management: It's now illegal to discriminate against LGBT
As of Thursday, LGBT is now protected by the 1964 Civil Rights Act from workplace discrimination. This decision was made by the EEOC, and the relationships as well as personal beliefs are now protected.
Lexology: DOL continues misclassification push, says "most workers are employees," not contractors
Business owners and employment lawyers alike continue to hash out the new Department of Labor policy on employees vs. independent contractors. Many of the rules are still unclear, and employers are required to perform an economic realities test in order to determine the correct classification of their employees.
Inc.: 15 characteristics of extraordinary teams [infographic]
As a warning, the text here is incredibly small, but much of it is worth reading. One key takeaway: gender-balanced leadership teams are more successful. It also includes tips for start-ups, quotes from business leaders, and research from recognized companies.