Halloween is an interesting holiday. It is the one holiday where our festive garb is designed to hide who we are, rather than emphasize it. We purposely hide behind masks, then knock on people's doors, asking them to give us something. For most of us, it's out of character and a fun experience, but for others, it's their everyday life.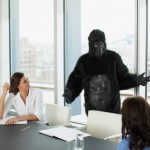 We find candidates, almost every single day, with false information on their resume or in their application. It might be an honest mistake–they forgot that they started their first job in June rather than May– and that's sometimes the case. But other times, the things we find would make you scream like the Bride of Frankenstein. We have found the obvious things, false salaries, stolen identification, inflated job titles, but we also find things like criminal records in counties that they did not list on their resume, diplomas from diploma mills rather than accredited universities, job references that are really beer buddies because no one would recommend the candidate. This level of dishonesty is  appalling, but it is a reality of the world we live in.
Tonight, when you open your door, have fun and hand out good candy (not the peanut butter things that get all stuck in the wretched wax paper). But, tomorrow, when you go to interview, make sure to find out who's behind the mask before you let them on your team.