May 3, 2014—May 4, 2014
Inc. magazine: "What Are You Willing to Be Bad At?"
http://www.inc.com/laura-montini/a-clear-way-to-visualize-your-company-s-competitive-advantage.html-
While this article's focus is on finding the competitive advantage for your company, the message is universal. In order to excel, you have to sacrifice somewhere as time and resources are limited. Choice makes greatness possible.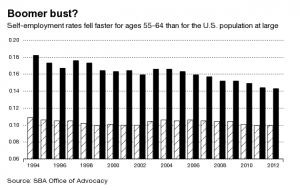 BusinessWeek: "Debunking the Myth of  a Boom in Boomer Entrepreneurs" http://www.businessweek.com/articles/2014-05-02/debunking-the-myth-of-a-boom-in-boomer-entrepreneurs#r=hpt-fs Changes at two ends of the spectrum face business today: Boomer retirement and Millennials entering the workforce. However, the Boomers may be even less likely to transition out than previously suspected. Turns out, the entrepreneurial spirit is not as strong pre-retirement as suspected. 
HR.BLR.com: CEO Held Personally Liable for FLSA Violations
http://hr.blr.com/HR-news/Compensation/FLSA-Fair-Labor-Standards-Act/US-Appeals-Court-rules-CEO-can-be-personally-lia In this case, the CEO of a small grocery store chain in New York is being held jointly liable with the chain. Despite the fact that his company employed more than 2,000 workers, he is still held liable for unpaid overtime.