April 12 — April 13
TLNT: Here's What Great Employers Really Do
This weekly wrap up includes some great articles from all aspects of HR and management,
including the need for busy work and how to better manage the compensation conversation.
It also includes an article on the seven things great employers do and a case study from Nordstrom on how to be one.
Fast Company: 
Become More Productive Without Actually Doing More Work
This article title says it all. The writer provides some horrifying examples of death by overwork then makes the argument that you can be more productive by scheduling downtime, among other things.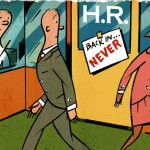 Wall Street Journal: Companies Saying No to Having an HR Department
This article points out that some companies are making the choice to forgo and HR department, but it also points to the very real consequences of such a decision. It was published last week, but it is a page-turner for anyone in HR or management.