For the first time in ten years, "the percentage of positive drug tests among American workers has increased…, fueled by a rise in marijuana and amphetamines," according to a recent release by Quest Diagnostics. While the percentage of positive drug tests does not rival those of the 1980s, it is rising.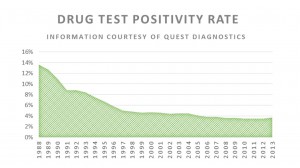 Now more than ever, companies must have a drug screening policy in place for their candidates and employees.
As states consider and pass laws permitting medicinal and recreational marijuana, employers must be aware of the laws in their state and how these new drug use policies affect their employment policies. At this time, there have been no policies allowing drug use in those positions that require Department of Transportation (DOT) standards, so companies that adhere to these rules have a clear line to hold. However, a small to mid-sized company without a drug testing policy in place is at the mercy of its employees.
"Everything You Never Wanted to Know About Drug Testing", which provides information for employers on drug testing, how it is done, what information employers can receive, and which policies can benefit employers most.